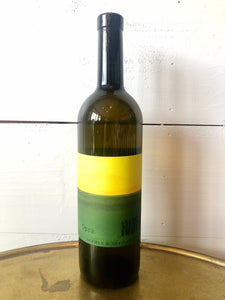 Grower: Weingut Maria and Sepp Muster
Region: Steiermark, Austria
Grape Varieties: Welschriesling, Sauvignon Blanc, Gelber Muskateller, and Morillon (Chardonnay)
Viticulture: Biodynamic
Category: White
Size: 750ml
Rolling, lush green hills reminiscent of Tolkien's Hobbit, an ancient, painstakingly restored bright yellow country house atop one of those knolls, a kitchen the size of a small classroom with a generously-sized dining table and a huge traditional tile stove with simmering pots right next to it: zooming into the vivid and homely setting of Sepp & Maria Muster's South Styrian home is almost too much to take in even for a seasoned wine traveler. Unique beauty and energy radiate from both the 300-year-old house and the wisdom of the vineyards that immediately surround it (best commute ever), and the same calm yet gripping vibe, unsurprisingly, also oozes from the couple's elegant whites, reds, and skin-contact wines.

Inspired by encounters with biodynamic agriculture and several years spent in India and Australia, the couple knew this was the only way they wanted to farm when taking the helm of the estate from Sepp's father in 2000. "We discovered quickly that the soil is where everything begins. Vitality in the soil leads to vitality in the plant, and ultimately, in every bottle of wine," Sepp explains their simple yet complex philosophy. Since the vineyards have never seen any herbicides or pesticides, the conversion went rather smoothly, and the vineyards have been certified by the Demeter Association since 2003. "Caring for our vines is like caring for a friend – we support them where we can with biodynamic preparations and teas, and in exchange, they provide us with small and highly aromatic grapes," they muse. And like in true friendship, there's also freedom, and a touch of uncertainty about what the future holds: "Nature is unpredictable, and having a strict plan does not always work in humans' favor. Understanding that allowed us to accept and balance this lack of security, and we feel that we have grown more open and aware because of it," Maria attests to their belief that nature can't be controlled, only worked with.
Age of Vines: up to 20 years old
Soil: Opok – Limestone and clay silt
Making of: Grapes are hand-harvested, destemmed, and gently pressed. They are fermented in 2400-liter oval wooden casks with indigenous yeasts. The wine then spends about 20 months aging in big neutral wooden casks. Bottled without fining or filtration, no sulfur added.
Personality: blend of all the white varieties grown by the estate with lovely acidity and precision intertwined with a creamy texture and lush citrusy notes.