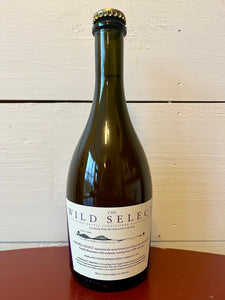 Grower: Wayside Cider
Region: Delaware County, New York, USA
Cider Varieties: Wild Apples
Viticulture: Biodynamic
Category: Cider, Sparkling
Size: 500ml
"Alex Wilson & Irene Hussey started Wayside Cider in 2014 based on their shared love of the wild and abandoned homestead apple trees. The pair made 3500 bottles of unfiltered mountain cider in their first year of production - which sold out within 3 months."  Wayside Cider is currently run by Irene Hussey.
 "Bucking the current cider trend of looking to Europe for inspiration and apple cultivars, we are focused on making modern American ciders that draw on the history and topography of the place where we live.
Wayside Cider is fortunate to have a orchard and nursery on High Meadows Farm, in East Delhi.  The farm, owned by John and Laura Hussey, got its start raising Suffolk Punch Draft Horses before expanding into other rare and heritage farm breeds.  These days the horses are all but retired, and the farm has shifted its focus to pigs, breeding both Tamworth and Gloucester Old Spots.  This works well for the cidery, as the pigs make an excellent waste management team, eating up all of our spent apple pressings. "
"The Wild Select cider represents the most honest and refined representation of Catskill Mountains wild orchards, coming from 100% wild fruit."