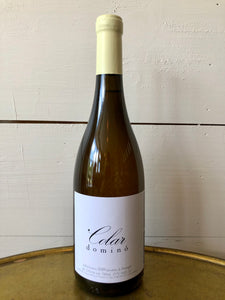 Grower: Vitor Claro
Region: Portugal
Grape Varieties: Malvasia
Viticulture: Organic
Category: White
Size: 750ml
Vitor Claro started Dominó in 2010, after years working as a chef and running his own restaurant, 'Claro', in Paço de Arcos, a resort town outside Lisbon. His career as a chef earned him high praise, and the cult status of his restaurant put him in touch with some of the key players of the wine industry in Portugal. One of them was Dirk Niepoort, the maverick Douro (and beyond) winemaker and producer, who motivated Vitor to pursue a new career, that of a vigneron. After a chance visit to a vineyard in Portalegre, in the Alentejo, Vitor and his wife Rita decided that they wanted to make wine from the old vines they saw, and with the help of Niepoort set out to learn to make wine and work the land.
A decade later, Vitor and Rita are now confirmed vignerons, working vines and making wines from the diverse landscapes of Portugal, a challenging but rewarding endeavor. As a chef Vitor understands how to combine all the different ingredients of the Portuguese terroir and its micro-climates in order to make the wines he wants and likes: fresher wines with bright acidity and clean palates.
So it is that from the coastal vineyards of Lisbon, in Colares, he and Rita make a white and a red which are quintessential Atlantic wines that show tension and salinity; from the schist soils of the Douro they make the Celestino, a highly textured and yet delicate white from old vines of Muscat a Petits Grains; and finally from Alentejo (where they are building their winery) they work the various micro-climates, plots, and altitudes of the region with field blends of very old vines of your typical mind-bending Portuguese grapes (Tinta de Olho Branco, Tamarez, Trincadeira… ), making fragrant and fine wines from a region known mostly for the power of its reds.
Their philosophy is simple. Vitor wants to express that which is not immediately obvious from his vineyards, in order to achieve purity and transparency. Vineyards are worked organically, ripeness is kept in check, and the approach in the cellar is subtle, with soft and short extractions, spontaneous fermentations, no corrections, low sulfur use and very light filtration.
Malvasia from the Atlantic Coast, west of Lisbon. Younger vines averaging ten years-old, from clay-limestone soils. Manually pressed and fermented with the lees. 50% of the wine rests in used barrel, and fifty per cent in stainless steel. Bottled without filtration.