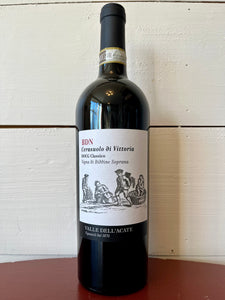 Grower: Valle dell'Acate
Region: Acate, Sicily, Italy
Grape Varieties: Nero D'Avola, Frappato
Viticulture: Practicing Organic
Category: Red
Size: 750ml
Valle dell'Acate is found in the south east corner of Sicily, located between the Iblei mountains and the Mediterranean sea in province of Ragusa. This corner of Sicily has always been a hotbed of vinous activity, but it was in the 1800s that Gaetano Jacono founded the cellars.
In 2000, shortly after Gaetana Jacono got her degree in pharmacy, she abandoned her career to join the family winery with the aim of taking it to the next level. Jacono is unquestionably a force: an outspoken advocate for her native vines, in 2013 she was elected the brand ambassador for the wines of Cerasuolo di Vittoria, a role she takes very seriously. Gaetana's success in her mission to raise the profile of the estate is a matter of fact: Valle dell'Acate is world-renowned for making high quality Sicilian wines of incredible elegance and a very special sense of place, which is no easy feat on this island. It's telling that the estate is both one of the original pioneers of the appellation, as well as the current benchmark by which all others must be compared.
Today the estate has about 80 hectares of organically cultivated vineyards planted to mostly Frappato and Nero d'Avola, with also Grillo and Chardonnay. The vineyards are between Acate, Comiso and Vittoria in the historical "Classico" district for Cerasuolo, which was one of the first Sicilian red wines to earn DOC status in 1973. In 2005, Cerasuolo was elevated to DOCG status—Sicily's only wine to bear this distinction! The Cerasuolo blend must be comprised of Nero d'Avola and Frappato (50% to 70% Nero d'Avola blended with 30% to 50% Frappato), and the wine must be aged for no less than 18 months before release. Valle dell'Acate's monovarietal Frappato, Nero d'Avola and Grillo are no less compelling than the flagship Cerasuolo di Vittoria Classico. And 2018 will also see the first release of the Iri da Iri, a cru of Cerasuolo which showcases the incredible aging potential of this historic blend.