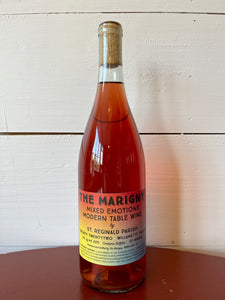 Grower: The Reginald Parish
Region: Willamette Valley, Oregon, USA
Grape Varieties: Pinot Noir, Pinot Gris
Viticulture: Organic
Category: Red
Size: 750 ml bottle
Andrew Reginald Young left behind a career as a New Orleans rock drummer in 2012 to make low-intervention wines from cooler climate vineyard sites in the Willamette Valley. He works with a lot of carbonic maceration to keep the wines light, all fermented with native yeasts and minimal intervention in the winery. The name of the winery is an amalgamation on his middle name, Reginald, and his neighborhood growing up in New Orleans, St Tammany Parish. 
Winemakers'note: "Something special for the 2022 vintage that we're trying out. A bit of every Marigny wine, blended together to create something new, yet familiar. A Modern Table Wine, if you will." 
 Blend of Marigny's 2022 Carbonic Noir, Carbonic Gris, Pinot Noir Rosé, Direct Press Pinot Gris wines.
"Kinda red, a bit rosé, a touch of skin contact, with the brightness of direct-press Pinot Gris. Serve it at room temp, chill it or live dangerously and put it on ice. It's all the feels for every occasion."