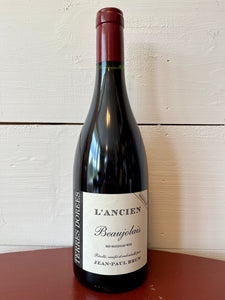 Producer: Terres Dorees
Region: Charnay, Beaujolais, France
Material: Gamay
Viticulture: Organic
Size: 750ml bottle
Winemaker Jean-Paul Brun's home estate in Charnay in southern Beaujolais, Brun planted Chardonnay in 1983 on the sandy, limestone-rich clay soils. 
Brun's Nouveaus were rated as the top Nouveau of the vintage by France's Gault Millau magazine several years in a row. Robert Parker has rated Brun as a four-star producer (the only other Beaujolais producers with four stars are in the Crus) and has written about his wines:

"Proprietor Brun is a believer in using only the vineyard's wild yeast, rather than the synthetic yeasts used by most other producers. His beautiful wines are favorites among purists."
L'Ancien comes from Jean Paul's oldest vines--hence the name of the wine--in his home village of Charnay in the southern Beaujolais. They range in age from 40 to 60 years old and are planted on slopes sporting the area's signature sandy clay-limestone soils, featuring the particular local "dorée" or "golden" limestone that is laden with iron. These older vines have always been farmed organically and harvested by hand and yield small, thick-skinned Gamay berries. As for all Terres Dorées reds, the vinification is traditional Burgundian. The grapes are rigorously sorted and destemmed, crushed and fermented with indigenous yeasts in concrete vats. The wine is aged in concrete until May-June after the vintage.