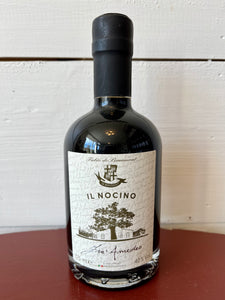 Producer: Fabio De Beaumont
Region: Campania, Italy
Material: Walnut, Grain
Viticulture: Organic
Category: Spirits, Amaro
Size: 375ml bottle 
Fra´ Amedeo is the nocino liqueur. Since the 1960s, Fabio's grandmother has been making this liqueur according to a recipe given to her by Friar Amedeo, a Franciscan friar who was a great friend of the family. Great after meals or after coffee.
Walnut malo is harvested in the second half of June and steeped in grain alcohol along with cinnamon, nutmeg and cloves.
Aged in glass for 50 days and then sugar-water syrup is added. After further aging in steel, the product is bottled without filtration.