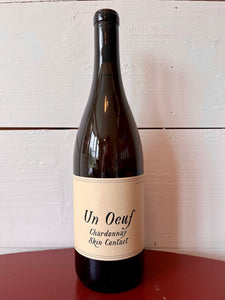 Grower: Swick Wines
Region: Willamette Valley, Oregon 
Grape Varieties: Chardonnay
Viticulture: Practicing Organic
Category: White, Skin Contact-Orange
Size: 750ml
 Oeuf means "egg" in French, as the wines from this series are aged in egg-shaped concrete vessels.
30 days of skin maceration. Aged in a 700 liter concrete egg for 8 months. SO2 at bottling.
Nose of lemons and wet rocks with dried orange fruits, nectarine and sea salt on the palate. 
Only 100 cases produced.