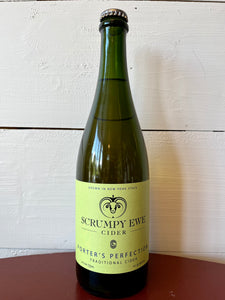 Grower Scrumpy Ewe Cider
Region West Fulton, NY
Apples:  100% Porter's Perfection
Viticulture Organic
Category Cider, Sparkling
Porter's Perfection makes an exceptional single variety cider that is bright, slightly astringent, fruity, dense and with great minerality. Medium tannins. Bone-dry. Lightly sparkling through bottle conditioning, this minimal intervention, clean, natural cider has little to no sulfites added. Contains sediment and pectic, allow to settle before pouring. The Porter's Perfection apple originates in 18th century England and has become our favorite single varietal and most planted tree in our orchard. Bottled Jan 2022.