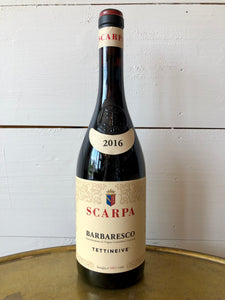 Grower: Scarpa
Region: Piedmont, Italy
Grape Varieties: Nebbiolo
Viticulture: Organic
Category: Red
Size: 750ml
Why Be Curious? Ultra-traditional Barbaresco from a producer who's been doing it that way for decades. Extra years of aging in botti grandi and then in bottle before release, plus library releases held back for even later release.
Produttore / Producer: Antica Casa Vinicola Scarpa has been producing traditional wines in the Monferrato hills of southeast Piemonte since 1854. But it was Mario Pesce, admired by both Giacosa and Gaja, who made Scarpa's reputation in the second half of the 20th century. Traditional sometimes means 'rustic', but that's not the case here. A very present gusto della casa (house style) produces elegant wines with arrow-like acidity and well-aged tannins. In the 21st century, Scarpa continues to produce each year small quantities of more than a dozen wines from 10 different grape varieties and to release gradually wines from its ample library of bottles going back to the 1960s.
Vigna / Vineyard: Tettineive is a 2.5 hectare vineyard just outside the village of Neive, near the cru of Cottà. The elevation is over 450 meters, hence the name ("the roofs of Neive" – i.e., higher than the town of Neive.)
Cantina / Cellar: Traditional fermentation in large, old truncated conical wooden vats for about 25 days. Aging for three to four years in large casks (2,000-10,000 liters) and then at least several more years in bottle before release. (Because Scarpa is a founding member of the Barolo and Barbaresco Consortium and has been bottling these wines since the 1940s, they have special permission to transport grapes from Barolo and Barbaresco and vinify and age the wines in their cantina in Nizza Monferrato.)
Il Vino / The Wine: This is Barbaresco the way it used to be made — where structure, spices, and minerals are at least as important as fruit. The extra aging in cask and in bottle results in a wine that is released when it's at least beginning to show the qualities that make a Barbaresco worth drinking: secondary aromas and flavors and the complexity that comes with age. In most vintages, the wine will continue to improve for years, if not decades, but if you drink it upon release, at least you won't be committing infanticide.
A Tavola… / At the Table… In Piemonte, this is the wine that you drink at special meals with important secondi — i.e., main courses, especially of meat. It's especially good with braised meat, game, lamb, and mushrooms (truffles above all!). Or enjoy it as a vino da meditazione at the end of a meal, with a generous hunk of aged cheese such as Parmigiano Reggiano.