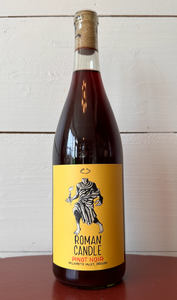 Producer: John Grochau & Communal Wines
Region: Willamette Valley, Oregon
Varietals: Pinot Noir
Viticulture: Practicing Organic
Category: Red
Size: 750ml
 John Grochau was first introduced to wine and the winemaking landscape in his early 20's, while racing bicycles for a French team in the Loire Valley. For several years, he raced through some of France's most revered winemaking regions, including Champagne, Burgundy and across the Loire Valley. When he returned to his hometown of Portland, Oregon, he went to work in the restaurant business and quickly discovered an even greater appreciation for wine. After more than a decade selling wine in some of Portland's finest restaurants, Grochau plunged into winemaking. He spent a year in Sonoma before returning to Oregon to work at Erath Winery and then Brick House. His first vintage as owner and winemaker at Grochau Cellars was 2002. John is a friend of Communal, having developed a relationship with Melissa on the road, selling wine through the same distributor partners. Melissa was captivated by the expressiveness and authentic expression of John's wines, and as a result, a partnership was formed.
A blend of premium sites from Willamette Valley, all hand-harvested, with mainly Eola-Amity Hills and a small percentage of Ribbon Ridge. The Hills sit in front of the Van Duzer Corridor, which is the low land route to the coast. It is cooler and windier, resulting in grapes with thicker skins, a longer growing season, and firmer acid structure. Vineyards are either certified either Live or Organic. 100% de-stemmed and an indigenous yeast fermentation, 90% stainless steel and 10% concrete tank.