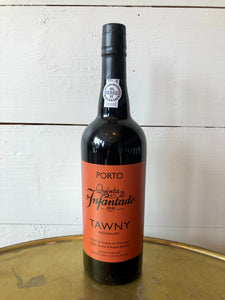 Grower: Quinta do Infantado
Region: Douro, Portugal
Grape Varieties: Touriga Franca/Touriga Nacional/Tinta Roriz/Tinta Barroca
Viticulture: Sustainable
Category: Fortified Wine, Port
Size: 750ml
Quinta do Infantado was founded in 1816 in the Cima Corgo sub-region of the Douro--considered its finest zone for both Port and dry wines--by the Portuguese crown heir D. Pedro IV, hence the name of the estate: "Infante" is Portuguese for "prince". The Roseira family has owned it since the end of the nineteenth century. Today, Infantado is run by third generation João Roseira (winemaker and vineyard manager) and other family members, who oversee family holdings of about forty-six hectares of vines. Quite interestingly, Infantado evolved over the last fifty years into the best kind of outlier and innovator in a wine region ruled for centuries by large-scale production and full-blown commerce.
Up until the 1970's, like most small growers, Infantado sold their wines off to large shippers; they then made the radical decision to go it alone, becoming the first estate to not sell or buy fruit or wine and to exclusively bottle estate-grown wines. At that time, their wines could not even be sold outside of Portugal: the law allowed only shippers with a commercial cellar in the town of Vila Nova di Gaia on the Douro near the coast to export. Given its location and small size well upriver, Infantado did not have and never intended to have such—only when the law changed in 1986 (when Portugal joined the EU) were they able to sell beyond their home country.  
Behind the bold decision to go independent was the inherent quality of Infantado's vineyards. Port is highly regulated and those regulations are built around an A-to-F vineyard classification scale. Infantado owns exclusively A-grade sites, which is the Douro equivalent of having nothing but grand cru vineyards. Theirs are mainly the classic steep, schistous, terraced, old-vine parcels of the traditional mixed plantings of local varieties (featuring around fifteen out of the possible seventy or so grapes). Typically in the Douro, A-level vines go only into vintage Port and B-level into aged tawnies and LBV's; the C-F classes are used for basic rubies and tawnies and get a higher fortification as well. Infantado by necessity uses only A-level vineyards for every level of wine.
The excellence of their material dictated not only their decision to go rogue and bottle estate wines but also determined their choice of a rare house style: that of medium-dry or meio-seco rather than fully sweet Port. Most Port comes from at best average fruit of only modest ripeness that is quickly fermented and left with a lot of sugar and just modest alcohol, never mind complexity, and thus a need for a large dose of brandy for fortification. Infantado harvests well-ripened, more complexly flavored fruit which is fermented further, to a point of less sugar and more alcohol and a reduced need for fortification—thus their wines contain around thirty percent less brandy than a standard Port.
Beyond the quality of the fruit, the particulars of Infantado's harvest and cellar practices have a vital impact on the nature of the wines. Most Port grapes end up being trucked in bulk under a hot sun that causes fermentation to start and compromises the freshness of the fruit before it even gets to the winery; then that fruit goes into huge steel tanks, cultured yeasts are added and fermentation flies to completion in twenty-four hours. Taking a more artisanal approach, Infantado harvests into small boxes so that the fruit lands quickly at their nearby winery. The fruit goes into a modern steel version of the traditional stone lagar—a long open tank where they do a combination of some traditional foot-treading and an updated, more consistent mechanical version of it—with only its natural yeasts for a much slower three-to-four-day fermentation.  This approach results in more moderate extraction and ultimately greater balance in the final blends. Aging takes place in a combination of very old, traditional wooden casks in a range of sizes and shapes, from the classic 550-liter horizontal pipas up to the tall, 3,000-to-60,000-liter wood tanks called toneis or balseiros.
Infantado has successfully distinguished their Port wines with some atypical choices in the last fifty years. The wines reflect the terroir and the tradition of the region in myriad ways through a modern, more vinous lens. João is continuing the exploration of terroir with some organic viticulture in a couple of parcels--from which they bottle a dry red wine from the traditional varieties—as well as single-variety vineyard plantings for Port production alongside the old mixed-grape plots. He takes nothing for granted and is emphatic about the importance of hands-and-eyes-on observation and engagement in the vines and in the cellar. Nothing is done by rote at Infantado, and the results of this thoughtful approach are evident in the bottle.