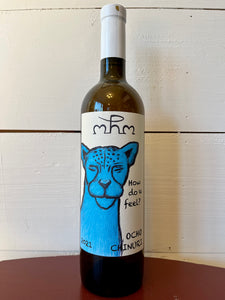 Grower: Ocho Wine
Region: Kartli, Georgia
Grape Varieties: Chinuri
Viticulture: Organic
Category: White, Skin- Contact
Size: 750ml
Two wine loving friends started making organic wine in 2014. Our mission became the goal of creating the finest organic wines using ancient Georgian techniques. Our grapes are harvested from bio vineyards located in different parts of Georgia. The wines are made with wild yeast and free from any additives. Most of the wines are fermented with skins and aged in Kvevris which are traditional clay pots used in Georgia. 
This wine is made in a kvevri according to the ancient Georgian traditional method, with wild yeasts and free from any additives. It is made from Chinuri white grape grown in the village of Plevi. Chinuri is one of the famous variety of Kartli and it symbolizes this region. this wine spent 1 months ageing on skin and from here we got golden-amber colored light wine. Yellow fruit and green tea notes provide the wine with interesting nuances. Pleasant acidity and light tannins make the wine special. Suggested cuisine: Salads, fish, seafood, and soft cheeses.