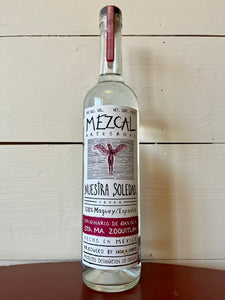 Grower: Casa Cortes
Region: Oaxaca, Mexico 
Materials: Espadin Agave
Viticulture: Practicing Organic
Category: Spirit, Mezcal
Size: 750ml
Situated between two rivers, Santa Maria Zoquitlán is the gateway to the district of the same name, Zoquitlán, which is home to the well-known distilling town of Candelaria Yegole. A local hero for the quality of his mezcales, Ignacio "Don Chucho" Parada is one of the industry's most beloved figures. The agave used in production is cooked in a conical earthen oven, milled by stone tahona, and fermented in wooden tanks before being distilled twice in traditional copper pot stills. After distilling numerous varieties of rare agave for El Jolgorio, Don Chucho has begun transitioning the family's Espadín production to his young son José, who has been making truly outstanding expressions in recent years. 48% ABV (Alcohol will vary from batch to batch).
Nuestra Soledad Santa Maria Zoquitlan is made in Santa Maria Zoquitlan from 100% agave Espadin. Lemon zest, red pepper, tropical fruit and smoked game greet the nose with a big, creamy and complex palate featuring honeysuckle and sandalwood. The exotic finish is long and nuanced with lychee, stone fruit and savory herbs.