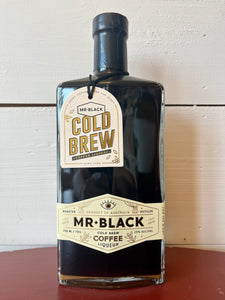 Producer: Mr. Black
Region: New South Wales, Australia
Materials: Arabica Coffee & wheat vodka
Category: Liqueur
Size: 750ml
Mr Black is engineered to appeal to serious coffee aficionados by emphasizing the purity of coffee flavor using a rare blend of three beans from different sources that are each roasted and brewed separately and then blended for a maximum range of flavor and balance. 100% Arabica coffee sourced from Colombia, Kenya, and Papua New Guinea.  The brand works directly with the farmers, co-ops, and importers to ensure that all workers are treated with respect, even requiring each grower to sign a commitment to the ethical sourcing policy. Mr. Black is vegan, gluten-free, and certified kosher, but one thing to note is that it does contains up to 40 percent of the caffeine found in a single shot of espresso.  "The cold brew liqueur for coffee purists". 
*contains caffeine