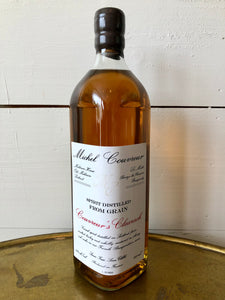 Grower: Michel Couvreur
Region: Scotland/Burgundy, France
Material: Grain
Category: Spirit, Whiskey
Size: 750ml bottle
Michel Couvreur was a visionary ahead of his time. Born in Belgium, he made a name for himself by purchasing Scotch whisky, transporting it to France and aging it in Burgundian caves, in a variety of vessels but mostly ex-sherry barrels. Clearach is the name given to young spirits aged just long enough to be called whisky (3 years of aging). It is unpeated and unfiltered, with flavors of almond, stone fruit, wildflower honey and ginger, and it's meant to be sipped as an aperitif or as a 'trou Norman', a shot of spirits taken mid-meal to stimulate digestion.