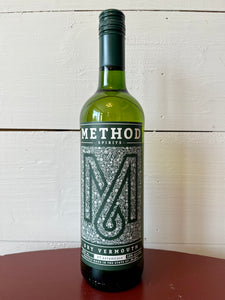 Grower: Method Spirits
Region: New York, USA
Materials: Vidal Blanc, Brandy, 27 Botanicals
Viticulture: Organic
Category: Fortified Wine, Vermouth
Size: 750ml
From botanicals & recipes to wine varietals & techniques, tradition informs everything that goes into Method Vermouth. This is classic sweet vermouth, just made closer to home. Twenty-nine roots, herbs, flowers, seeds, and spices marry with a blend of wine and brandy from the Finger Lakes of New York to make vermouth inspired by the Italian vermouths enjoyed by generations of cocktail makers.

Method Vermouth was developed by Cory Fitzsimmons, an accomplished barman with over a decade working in NYC bars; including as Head Bartender of Union Square Cafe. Unable to find local vermouth appropriate for classic cocktails, he set out to create his own using all New York Wine and brandy.