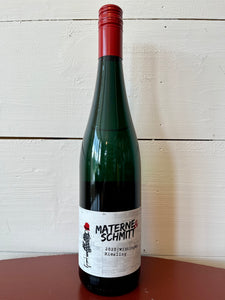 Producer: Materne & Schmitt
Region: Winninger, Mosel, Germany
Material: Riesling
Viticulture: Organic
Size: 750ml bottle
Materne & Schmitt make Riesling exclusively from steep sloped or terraced slate vineyards, with all work done by hand. They allow no manipulation in their wine. All grapes are hand-selected at extremely low yields (around 20 to 35 hl/ha), macerated on the skins without sulphur, gently pressed, and gravity-run into the cellar. All wines are spontaneously fermented and often go still during winter and begin again in the spring. No additions, reductions or fining of any kind occur. Total sulphur never exceeds 60ppm. All wines are vinified completely dry and bottled 11 months after harvest.