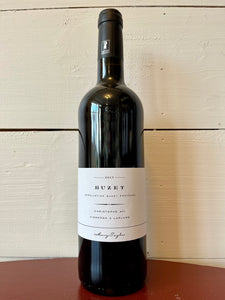 Producer: Mary Taylor
Region: Buzet, Southwest, France
Varietals: Cabernet Sauvignon, Merlot
Viticulture: Sustainable & Biodynamic
Category: Red Wine
Size: 750ml bottle
Each Mary Taylor wine is a faithful ambassador of its geographical origin, true to local traditions, and the vision of the individual farmer who bottled it, whose name is listed on the front of every bottle. Mary Taylor Wine offers affordable wines of genuine quality and integrity (no shortcuts) that will bring the magic of their "terroirs" to life wherever you choose to enjoy them: at a dinner party, next to the grill, or even just on a quiet night at home.
From Mary Taylor:
"I met Christophe's wines first. I had tasted a number of bottles that day that I wasn't thrilled with, but when I opened his Buzet, the light went on. Super graceful. Haunting, tertiary rich red berry, coffee bean, tobacco leaf. But not oaked. No primary ready-made effects.  I brought the wine to a friend's blind Bordeaux night where we taste classified growths and grand cru classe wines. Everyone loved my 'mystery wine.' I was thrilled to reveal that I was pouring a Merlot / Cabernet from a farm in the Southwest – 1 hour away from Bordeaux."
"2017: Also a good year. The spring was sunny and sprinkled with some rain. The summer was a little drier than the previous one, and harvest was very pleasant. We feel the season's slight dryness in the mouth, as the wines are warmer and have a little more substance. The 2017 offers a nose of robust fruits mixed with a smell of leather, foretelling a complex wine with great finesse. The delicate mouthfeel with its lightly expressive tannins and long finish promise a few years of keeping."