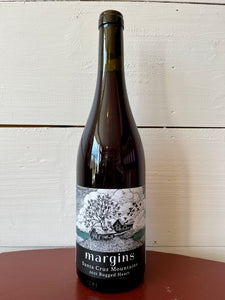 Producer: Margins Wine
Region: Santa Cruz Mountains, California
Grape Varieties: 57% Cabernet Franc, 43% Merlot
Viticulture: Certified Organic
Category: Red
Size: 750ml bottle

100% destemmed. Fermented separately on skins for three days and blended right after pressing. Aged in neutral oak for eight months. Native fermentation, no fining, no filtration, no other modifications or additions except 20 ppm of sulfur dioxide the week before bottling.  Notes of raspbery, nutmeg and cobbler.

Margins Wine produces low-intervention wines using grapes from underrepresented regions, vineyards, and varietals. We are part of the growing movement in California to make wines from sustainably farmed vineyards using little to no additives during the winemaking process, thereby showcasing the vineyards the grapes came from. Much like people living on the 'margins of society,' vineyards can be outcasts too. Most consumers of wine are only familiar with a handful of grape growing regions and types of wine. Margins draws attention to vineyards and varietals throughout northern and central California that find themselves on the margins without the recognition they deserve. Margins Wine is a small winemaking project of Megan Bell, a winemaker living and working in the Santa Cruz Mountains. Prior to settling on the central coast of California, Megan received her BS in Viticulture and Enology from UC Davis and apprenticed in wineries and vineyards in Napa, Livermore, the Willamette Valley, Central Otago, and the Loire.
From Megan Bell:  "I stumbled upon Makjavich Vineyard in spring of 2017 while on my way to a square dance on the rural property of a good friend. This vineyard lies on the site of the 8th registered organic farm in the USA. Larry Makjavich planted these vines himself around 2011 and farmed them with friends for eight or so years, making the wine in his basement. Starting in January 2019, I began to co-farm this vineyard with Larry, and Margins has purchased all of the fruit since then. So much of my time and commitment and love for what I do is centered on farming this vineyard as a team with Larry Makjavich.
Years ago, I was struggling with what to call this vineyard before it was time to label the wines for the first time. No one had ever made wines commercially from this site before, so there was no precedent. Larry gave me free rein to call the vineyard whatever I pleased. I discovered the phrase 'rugged heart' when I was browsing a late 1880s guide to Santa Cruz County. It suggested that the extreme landscape and diverse coastal and mountain microclimates were well suited only to travelers with 'rugged hearts.' In the end it didn't feel right to name this vineyard after anything other than the person who planted and continues to farm it nearly every day, but I loved the phrase and chose to use it for this wine."