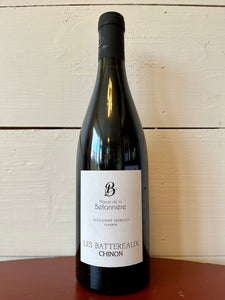 Producer: Manoir De La Bellonnière
Region: Chinon, Loire Valley, France
Varietals: Cabernet Franc
Viticulture: Sustainable, Practicing Organic
Category: Red Wine
Size: 750ml bottle
Manoir de la Bellonnière is located in Cravant-les-Côteaux, the main village of the Chinon appellation. Patrice Moreau joined his great uncle in 1976 in their polyculture farm that had some vines. He was passionate about the vine growing side of the farm and in 1992 purchased ten hectares, which marks the official beginning of the Manoir de la Bellonnière. In 2008, his son Alexandre joined him at the winery and today they farm 30 hectares of vines mainly planted with Cabernet Franc and a small plot of Chenin. The vineyards have always been farmed in a conscientious manner, never treated with herbicides, and any treatments are chosen judiciously in response to climatic conditions. In 2022, they began the process for organic certification. In the cellar, Moreau states, "grapes naturally possess everything needed to make wine." There are no additions nor adjustments made to the wines, just sulfur is used at bottling. 
100% Cabernet Franc. Vines ranging from 50 to 90 years-old, grown in alluvial soil in Cravant-les-Côteaux. Spontaneously fermented with indigenous yeasts and aged for 12 months in concrete eggs.