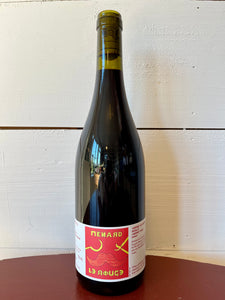 Grower: Domaine des Sablonettes
Region: Loire, France
Grape Varieties: Cabernet Sauvignon, Groslet, Cabernet Franc, Gamay
Viticulture: Organic, Biodynamic
Category: Red
Size: 750ml
Christine and Joel Menard have been making wine in the heart of the Coteaux du Layon AOC for more than thirty years. They produce an outstanding array of wines from Cabernet Franc, Grolleau, Gamay and Chenin Blanc. They practice biodynamic methods in their 13-hectares of vines. Christine and Joel run their domain to very exacting standards and as a result they produce stunning, natural wines—without employing artificial yeasts. The wines from Sablonnettes are not chaptalized or filtered, these wines are vibrantly alive.
Vinification: Grapes are hand harvested and layered by variety in whole bunches. Aged in tanks for a couple of months.