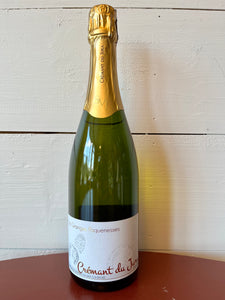 Producer: Les Granges Pâquenesses
Region: Jura, France
Grape Varieties: Chardonnay
Viticulture: Biodynamic
Category: Sparkling
Size: 750ml
After working for Laurent Charvin in Chateauneuf, winemaker Loreline Laborde decided to leave her native town of Montpelier in the Languedoc to set up shop in Tourmont in the Jura mountain region, primarily driven by financial reasons, as at the time, purchasing vines and a cellar space in the Jura was a relatively inexpensive affair when compared to neighboring regions. The Jura has since seen an influx of winemakers eager to stake their claim--most notable among them being Guillaume d'Angerville, the esteemed Burgundian winemaker. Loreline has been painstakingly accumulating tiny additional vineyard parcels over the years, gradually adding to her entirely biodynamic 3.5ha estate. Her wines are always marked by a minerality and a lovely dry finish, crystalline and terroir-driven at their core. 
The fruit for this Cremant du Jura bottling is entirely from Pupillin, and is hand-harvested from 30 year old Chardonnay vines. Dry and mineral with a lively bead, this is a lovely Jurassic sparkling white.  It features a classic brioche-tinged bouquet with a distinct hint of underbrush and earth. The most "rustic" of Les Grange Paquenesses' offerings, its finish is long and full of minerals, indicative of Jura's terroir.