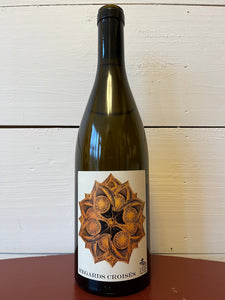 Producer: Les Deplaudes de Tartaras
Region: Collines Rhodaniennes, Northern Rhône, France
Grape Varieties: Jacquere, Roussane, Chasselas, Ravat Blanc, Clairette
Viticulture: Certified Organic & Biodynamic
Category: White
Size: 750ml
When Pierre-Andre and Anne started to farm in the out of the way Coteaux-Du-Gier somewhere between Lyon and Clermont-Ferrand wine wasn't a priority, instead it was grains, fruits and dairy cows, as well as a tiny production of wines.  This kept going until the early 2000's when a drop in milk prices forced them to rethink a few things, and they decided to take some of their most interesting land and convert it to vineyards. What didn't change was the commitment to be farmers first, to work the land honestly and responsibly and have the product reflect that, be it wine or milk.
'Regards Croises'- Crossed Perspectives.  Fermented and raised in two 'cuves diamant' (cement egg laying on its side) sur lie. Bottled in July.  A cuvée borne from two previous wines Pierre-Andre and Anne made ('Les Yeux Fermés' and 'Le Monde à l'Envers').