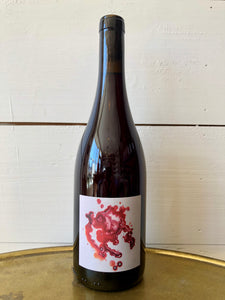 Grower: Las Fermentadas- Alice L'Estrange
Region: Itata Valley, Chile
Grape Varieties: Pais
Viticulture: Organic
Category: Red
Size: 750ml
Las Fermentadas is a project helmed by Alice L'Estrange, open to any women who would like to make natural wine collaboratively at her winery as a team. In 2021, Alice worked with Coline Marre, a French Oenologist, and Isidora Munita, a Chilean raw milk cheesemaker. They purchased grapes from an organically farmed, chemical free vineyard in Quirihue, in the Itata Valley farmed by Miguel Antonio Melo Henriquez who had been selling the farm's grapes as table grapes due to the lack of a market for wines from the area. In the future, the participants in this project will change, and they may work with grapes from different sources, but Las Fermentadas will always be about collaborative women-made wines.
All of the grapes for Sangrada were destemmed and pressed very gently into neutral plastic fermenters. When fermentation finished, some of the pressings from Zarandeada were added to the juice to impart color and structure. A flor formed, and the wine rested in plastic tank until racking and bottling.