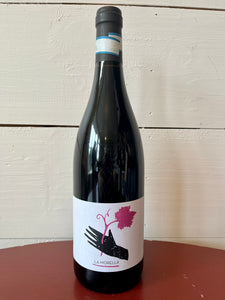 Grower: La Morella
Region: Piedmont, Italy
Grape Varieties: Barbera
Viticulture: Biodynamic
Category: Red
Size: 750ml
La Morella is an agricultural reality located in the municipality of Carezzano, in the province of Alessandria, in the heart of the Tortona hills. It was born in 1985, thanks to the love of the owner, Enio, for his land and its territory, reinforced by love for nature, a recipe that led to the desire to produce with organic methods, now under the strict supervision of the Body of Codex Control. Today Enio, with the help of his family, manages 32 hectares of land, of which 8 are vineyards, while in the remaining ones we find other crops such as wheat and alfalfa, dedicated to the sale and partly to feed the animals present in the farm. The vineyards of La Morella are located on the Tortona hills, between Carezzano and Paderna, on soils of limestone, clay and with a large presence of marl. The classic vines of the Tortona Hills are grown, such as: Barbera, Cortese, Freisa and Timorasso. In the cellar Enio tries to do as little as possible, the wine is given time to evolve with patience. 8000 bottles produced.