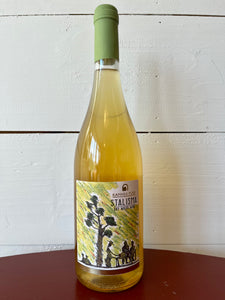 Grower: Kamara
Region: Greece
Grape Varieties: Malagousia, Xinomavro
Viticulture: Organic
Category: White
Size: 750ml
Dimitrios Kioutsoukis's family hailed from East Romylia back to the early 1900's. The family had always harbored a dream to make wine like their ancestors, but lacked the finances to start a winery. Dimitrios trained and worked as a chemical engineer originally, and worked for many years in the medical field, to save money to fulfill this winemaking dream. The region he lived in, Thessaloniki, in northern Greece, had been well known for the cultivation of vines, but since phylloxera cultivation had all but died out. He studied winemaking through the UC Davis extension program and decided in 2010 to plant 11 hectares of vines of Greek varieties including Assyrtiko, Malagousia, Roditis, Xinomavro, Limnio, Muscat, and Moschfilero.
From the very beginning the vineyards were worked only in accordance with long-standing traditions, like manual pruning, hoeing of weeds, and harvesting, and use of natural sprays made from plants like nettle and yarrow, and composting and fertilization with natural manure. They always sought to do as few treatments as possible, to maintain balance with the natural way of the vines and nature. Then in 2015, with his daughter Stavroula, an agronomist and oenologist, he took the giant step of converting all his production to natural methods. The wines are now all naturally fermented with indigenous yeasts, have no products added or subtracted, are not filtered, and have zero sulfur added at bottling. 
Winemaking: The grapes are harvested manually. Malagousia was left on skins for 3 days, while the Xinomavro grapes were direct-pressed as blanc de noirs. When the fermentation finishes, the varieties are blended together and aged on their own fine-lees until spring, when it's bottled without fining, filtration, or added sulfites.