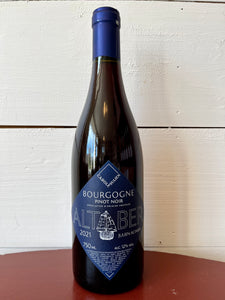 Producer: Julian Altaber
Region: Burgundy, France
Grape Varieties: Pinot Noir
Viticulture: Organic
Category: Red
Size: 750ml bottle
Julien Altaber was born a farmer. He grew up in Auvergne and spent all his free time around cows and tractors. When he was 16 participated in his first wine harvest and fell in love. He interned in Mâconnais and Beaujolais wineries until finally settling in with Catherine and Dominique Derain where he learned about organic and biodynamic winemaking. In 2007, Julien purchased grapes with the support and equipment of the Derain's and began Domaine Sextant. Today, he has a winery and cellar in St. Aubin, as well as half a hectare of his own vines. In addition, he continues making wine for Domaine Derain with his consistent, natural, and forward-thinking style.