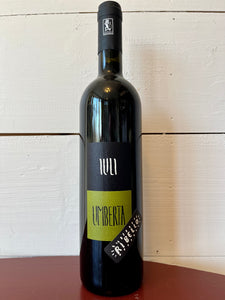 Grower: Iuli Fabrizio
Region: Piedmont, Italy
Grape Varieties: Barbera
Viticulture: Organic
Category: Red
Size: 750 ml bottle
Iuli is located in the far north of the Monferrato, in the town of Montaldo di Cerrina.  Once a vibrant little town of 450+ souls, today there are only 92.  Today, Fabrizio Iuli is the only winegrower in the town. His first commerical vintage was 1998, with his Barbera called Rossore.  The grapes found in his vineyards are Baratuciat (a nearly-extinct white variety from the Val di Susa), Slarina (a red Monferrato variety also almost lost), Grignolino, Nebbiolo, Pinot Nero, and, of course, Barbera. There are 35 contiguous hectares of land in one valley, with 16 hectares planted to vine. Certified organic, the land has never seen any chemicals. Despite being ridiculed by neighbors, Fabrizio's grandfather and father never succumbed to pressure to buy products they felt were meant to fix something that wasn't broken.  The isolation of the place suits Fabrizio's desire to instigate and protect biodiversity.  The thick surrounding woods keep the prospect of a monoculture at bay.  They contain many white truffles in the season; they also house many wild boar, who can and do devour a crop of grapes. Some end up at Cascina Iuli in the form of 'Barbera Pig' stew. 
The wines are Piedmontese to the core, ultra-reflective of the poor, but limestone-rich soils and northernly climate with cool nights. Each wine has a reason for being; each wine has extreme drinkability without losing seriousness or intrigue. They are concentrated in their fruit, but also have a lightness and florality that feel very "Iuli." 
 Umberta is 100% Barbera and the so-called "entry-level" wine at Iuli.  Coming from south-facing vineyards planted between 1940 and 1999, it is typically harvested the first week of October.  Vinified in concrete with 20 days of maceration.  Aged in concrete for 10-11 months, with an additional three months of bottle aging.