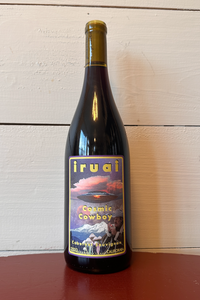 Producer: Iruai
Region: Etna, CA
Grape Varieties: Cabernet Sauvignon
Viticulture: Practicing Organic
Category: Red
Size: 750ml
Iruai Winery ("ear-oo-eye" … the artist formerly known as Methode Sauvage) was started in 2013 by Chad and Michelle Westbrook Hinds in Berkeley, CA as a gypsy natural wine project, before laying down roots in Michelle's beautiful hometown of Etna, CA in the mythical Shasta-Cascade mountains of Siskiyou County in 2019.
"Trading in the urban winery hustle for the vigneron life, we are exploring avant garde vineyard planting and rehabilitation techniques using the permaculture methods laid out by Masanobu Fukuoka, while formulating our own "chaos organics" method of re-enchanting the land. Truly unlike anywhere else in California, Scott Valley in Western Siskiyou County (not to be confused with Scotts Valley) feels like a cross between Switzerland and Montana, cut with a rain shadow from Mount Shasta that divides it starkly between high mountain prairie and dense alpine forests.
Finding ourselves in largely untested grape growing territory, with high elevations and a continental climate, we have turned Iruai into an exploration and celebration of esoteric varieties that flourish in the Alps of Europe. While we work to grow our Scott Valley estate vineyard projects, we purchase fruit and lease vineyards throughout the Shasta-Cascade, from the Trinity Alps of California to the Siskiyou Mountains of Southern Oregon.
We seek to make wine with a sense of place by employing no additives, and removing no character. Our goal in the vineyard is to let the vines thrive like they would in the wild, and in the cellar, to shepherd each ferment through its own natural development and evolution."
"This isn't your Boomer Uncle's Cabernet Sauvignon that comes in a ten pound bottle, and smells like a freshly burnt oak barrel with hints of douche chills. Born out of a desire to channel the psychic terroir of our new rural home and rancher neighbors: we made some rugged, old school Cab Sauv to pour with them when they bust out the home grown grass fed beef. "Cosmic Cowboy" is a reference to the musical ideology of Gram Parsons. It's the genre he saw as a fusion of the many folkways of Americana: Country, Folk, Soul and Rhythm & Blues. Unlike the "Cowboy" as a literal occupation, or a culturally conservative adoption of the trappings of an esoteric "simpler time" — the "cosmic cowboy" is the free-thinking transcendental jus of the melting pot of America. The marrying of these distinctive vibes can also be summed up as: my conservative Grandpa really loves Willie Nelson, but also Willie Nelson smokes a lot of pot. "Cosmic Cowboy" taps into big road trip energy, taking in the grand evolving landscape of the West, and churning out the Great American Novel at roadside diners along the way. Our Cab Sauv trades in the jammy fruit and cedar box of your uncle's wine fridge, for fresh plums and berries, saddle leather, and wafts of tabacco pouch. Our Cab Sauv isn't a stock broker out for a "power lunch," it's a long haired alien in a nudie suit taking their space Cadillac out for a spin. The stars are shining bright out on the pasture tonight, as above so below."