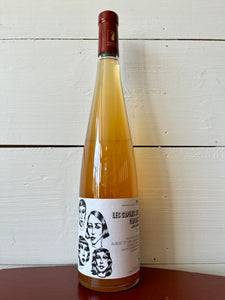 Producer: Hubert et Heidi Hausherr
Region: Alsace, France
Varietals: Riesling, Pinot Gris, Pinto Blanc, Gewurztraminer & Pinot Noir
Viticulture:  Biodynamic & Certified Organic
Category: Orange Wine, Skin Contact
Size: 750ml bottle 
Hubert and Heidi Hausherr live and work in the picturesque village of Eguisheim in Alsace, France. 40 years ago, Hubert helped his father plant their family's 3.9 hectares of vineyards on the sloped foothills of the Vosges Mountains. Since Hubert took over all of the vineyards have been converted to organic or biodynamic agriculture. They make wines without additives, completely by hand, except for the help of their trusty horses Skippy and Douce. These wines are pure expressions of Alsatian terroir. Elegant, and generous, but a little rough around the edges.
Grape maceration on skins for 25 days, spontaneous fermentation in steel tank, aging 6 months in steel tanks. zero/zero. a deliciously fun, and crowd-pleasing skin-contact wine.