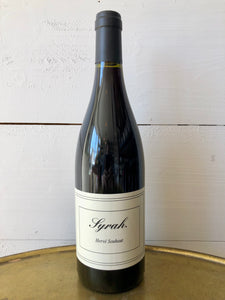 Grower: Herve Souhaut 
Region: Northern Rhone, France
Grape Varieties: Syrah
Viticulture: Organic
Category: Red
Size: 750ml
Hervé Souhaut created Domaine Romaneaux-Destezet in 1993. Hervé works 5-hectares of old and ancient vines—between 50 to 100 years old. He is very fortunate to own two vineyards in the Rhône Valley just opposite the storied hills of Hermitage in Saint Joseph. This region is widely recognized as being one of the finest areas for wine production on the planet; thanks in part to its elevation, ancient vineyard sites, and southeastern and southern exposures. The domaine is located further into the hills of the Northern Ardeche in the tiny town of Arlebosc, about a 30-minute drive, winding through the hills from St Joseph. The winery is underneath the 16th century "les romaneaux" fortified farm and sits in the middle of the vines that make up the Souteronne, Syrah, and white cuvées.
Hervé works entirely on whole grape bunches and semi-carbonic maceration. His philosophy is to extract a delicate balance of tannins from the grapes, to make a wine with subtlety and finesse. This stands in contrast to many of the storied wines of the Northern Rhone that are made with much more extraction of tannin, where they are designed to be practically undrinkable in their youth, as time is needed for them to soften and open up. Hervé prefers to make a wine that is drinkable right away, but we must say his wines have such a fantastic level of purity and acidity, that the older bottles we have tasted have incredible potential to evolve into what we find to be one of the most spectacular natural wines in existence.
Vinification Method: Grapes are hand-harvested and undergo a very long maceration at a low temperature—without destemming. The wine is fermented in wooden tanks and aged on fine lees in second-hand oak casks for eight months. The wine is bottled without filtration. The wine has a total SO2 of only 25mg/L.
Tasting Note: Violets, bacon fat and black cherry all interplay on the nose. Deep black cherry and juicy plum flavors meshed with candied violets and cool strawberry flavors on the palate. The moderate tannins highlight the fruity components on the finish.
Pairing: Ideal with squab, Cornish game hen, roasted chicken or roast pork, grilled beef or lamb.