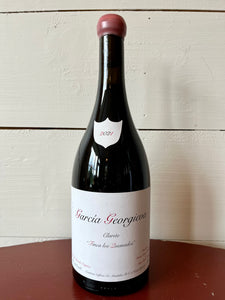 Grower: Goyo García Viadero
Region: Castilla y León, Spain
Grape Varieties: Tempranillo
Viticulture: Organic
Category: Red
Size: 750ml
Goyo Garcia Viadero's roots in Ribera Del Duero run very deep: he has been working in the area since before the establishment of the D.O., and his family has been working in viticulture for hundreds of years. While grape growing and wine making in the region is exceedingly ancient (Goyo's own cellar dates to the Roman era), the modern history of the region began with the founding of the Ribera del Duero D.O. by 12 wineries in 1982. In the past 40 years, this number has grown massively, and the region's reputation for extracted, oak influenced wines made primarily from Tempranillo has been solidified by the emergence of nearly 300 bodegas, including the producers of some of the most expensive Spanish wines.

Goyo's approach makes him the region's "black sheep", as he has rejected additives, new oak, and intense extraction which are characteristic of the region's wines. Instead, greatly inspired by natural winemakers like Pierre Overnoy from the Jura, Goyo began farming without chemicals and making wines in a style more like his grandparents than his neighbors. Beginning with three parcels of old vines in 2003, he has charted his own course in the increasingly industrial and commercial landscape of Ribera del Duero, embracing centenarian vineyards and traditional methods of winemaking in equal measure.

The ancient 4th century lagar and cellar that houses Goyo's barreled wines is an important part of his winemaking. Dug out of limestone bedrock below the town of Gumiel del Mercado, the labyrinthine cellar is vast, deep, and stays at a very cool temperature year-round. This environment creates the ideal conditions for long, stable fermentations and extended barrel-aging that characterize Goyo's winemaking. He attributes the stability of his wines partially to this unique cellar.

From those few hectares of initial vineyards in 2003, Goyo and his wife Diana Semova Georgieva now manage the organic farming of roughly 40 hectares of vines in Ribera del Duero, making their own wines from roughly 10 of those hectares. These selected plots of old vines, mostly around the town of Roa, are planted to Tempranillo, Graciano, Albillo, and Malvasia; most vineyards, especially the oldest plots, are co-planted to red and white varieties. The vines sit on a variety of soils, ranging from clay to limestone to alluvial sands. Perhaps what unites the plots is their impressive elevation: Finca Quemados and Finca El Peruco are over 900 meters above sea level (making them some of the highest altitude vineyards in the appellation), but even the 'lower' vineyards are a towering 800 meters or higher. On the sunbaked plateau of Ribera del Duero, these high altitudes lend the wines a fascinating tension between phenolic concentration and bright acidity.

Three parcels of old vines, Finca Valdeolmos, Finca El Peruco, and Finca Viñas de Arcilla, are the core of Goyo's work. From these centenarian vineyards, Goyo produces his three single vineyard wines and his annual GGV reserve. The three fincas are relics of Ribera del Duero pre-commercial past and the wines that Goyo makes from them are unique expressions of the area's ancient terruño. White wines with skin-contact made from the local Albillo and Malvasia varieties are a newer addition to Goyo's project, as is a Clarete made in the traditional, short maceration style of the region. These may seem like innovative departures from the orthodoxy of Ribera del Duero (the D.O. did not allow white wines until 2019), but Goyo sees these wines as revivals of old styles that predate contemporary industrial agriculture and winemaking.

Finally, Goyo also makes wine in Cantabria, the area where his mother comes from, in the mountainous Liébana Valley. Here, there are little-known plots of old vine Mencía and Palomino planted on pure slate, and Goyo works with 2Ha of vines in the region to make a red wine and skin-contact white wine in the same fashion as his Duero wines.
 
Goyo's approach in the cellar is delicate. All grapes are completely destemmed by hand, pressed gently, and fermentations are slow in cold, ancient cellar. For the wines that age in barrel, Goyo employs exclusively very old, very finely grained barriques from Bordeaux. Most wines are bottle-aged for at least a year before release, and sulfur and other additives are never used. Goyo's careful process produces wines of striking sincerity and elegance that communicate a strong sense of place and simultaneously fit any definition of "natural" wine.
Finca Los Quemados Clarete 100% Tinta Fina (Tempranillo) from the Los Quemados vineyard of 56-year-old vines planted on red sands with pebbles. At 960m above sea level this is one of the highest vineyards in Ribera del Duero. The grapes are destemmed and macerate for 5-6 days in temperature controlled stainless steel tanks. As fermentation begins, the juice is racked off the skins into old French oak barrels to ferment and complete malolactic. This style of shorter maceration winemaking is what Goyo terms "clarete." Bottled without addition of SO2 and without fining or filtering.