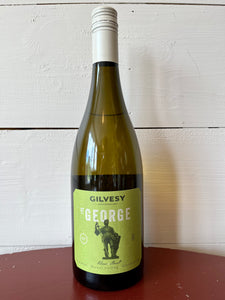 Grower: Gilvesy Winery
Region: Mount Saint George, Badacsony, Hungary
Grape Varieties: Furmint, Rhine Riesling, Olaszrizling
Viticulture: Organic
Category: White
Size: 750ml bottle
Robert Gilvesy makes wine from vineyards on Mount Saint George (Szent György-Hegy), an ancient and little known volcanic butte in Europe's Pannon basin in Western Hungary that is part of the Badacsony appellation.  While the volcanoes in the region have been active for eight million years, wine cultivation began when the Romans occupied Pannonia.  Mount Saint George terroir is volcanic, naturally, with eroded basalt and tuff integrated in Pannon loess, sand or clay.  The area used to be part of the prehistoric Pannon sea, which explains its volcanic nature but also the sub-mediterranean climate and sedimentary base strata.  Gilvesy's 10 hectares are planted to Riesling, Furmint, Olaszrizling and Sauvignon Blanc.  Many of the vines were planted in the socialist '70s and have been reinvigorated since that time.  Gilvesy has also done a fair amount of replanting since he began the project in 2012 and those vineyards are now coming into maturity.

Gilvesy is of Hungarian parentage, born in Ontario.  After a time as an architect in Paris, he moved to Hungary in the '90s, shortly after the fall of the Berlin Wall.  He was able to take over a cellar that had originally been built in 1680 by the Lengyel family, which he renovated.  The organic conversion process was completed by 2014.
Organically cultivated furmint, rhine riesling and olaszrizling. Fermented in tanks and 500 litre Hungarian barrels. Pear, apple, lemon and a long mineral finish. Round and cheerful, just like an early autumn day on the mountain.