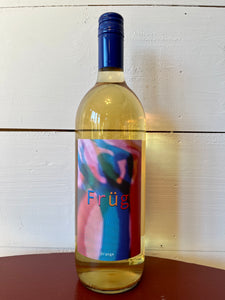 Grower: Frug
Region: Burgenland, Austria
Grape Varieties: Gruner Veltliner, Roter Traminer
Viticulture: Organic
Category: White, Skin-Contact
Size: 1liter
"The Josef and Pia Wurzinger winery lies in the south-eastern part of Burgenland, almost at the border with Hungary, and was established by the current owner's grandfather. Josef took it over from his parents in 1991, gradually changing the vineyard management to organic before obtaining the certification in 2014. "Making the shift happen over many years was particularly important to us since we wanted to give our vines time to adapt and maintain the quality and fruitiness of our wines," as Josef explains why the switch took some time. 
The winery focuses on typical Austrian grapes – Gruner Veltliner, a traditional variety that has become almost synonymous with Austrian white wine, present in the country since some time around 1550 and nowadays its most widely planted grape; and Zweigelt for the rosé and red, a (relatively) new but similarly Austria-typical cross of St. Laurent and Blaufrankisch, bred by a local viticulturalist of the same name in 1922. 
The name Frug comes from a 1960s dance, which is very shake-your-hips and vibrant like the wine itself, fitting also with the colorful label designed by our Jenny Lefcourt's brother in cooperation and her husband. It was coined by Toni Silver, an artist and Austrian wine promoter who also connected us with the winery: "My brain always bounces around from the present back to the mid-20th century, as I am a retro kind of gal, so I just started thinking of party-drinking-dancing and started to remember some of the crazy 60's dances – the Twist, Mashed Potato, the Frug!" Well, there you go: we bet this Austrian liter trio will make you dance as well."