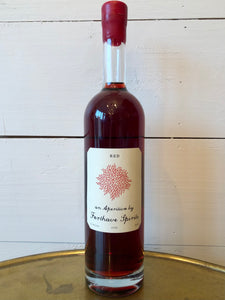 Grower: Forthave Spirits
Region: Brooklyn, New York
Materials: 13 botanicals
Category: Spirit, Bitter
Size: 750ml
As legend has it, while the plague ravaged Europe in the 15th Century, a botanist named Richard Forthave created a popular herbal tonic as protection. 
At Forthave Spirits, we believe in crafting spirits that are natural and delicious. We look towards history for inspiration for every one of our botanical spirits and approach every aspect of our production and supply chain with care.  
RED is a bittersweet aperitivo infused with 13 botanicals including orange, chamomile and rose. Perfect mixed with soda water or grapefruit juice, on the rocks with lime, or in a Negroni.