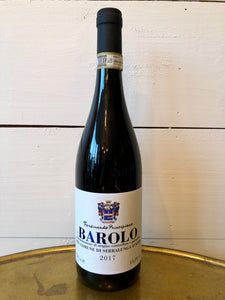 Grower: Ferdinando Principiano
Region: Piedmont, Italy
Grape Varieties: Nebbiolo
Viticulture: Organic
Category: Red
Size: 750ml
It's admittedly odd in today's age of 'Barolo as King' to introduce a historic Barolo estate in Monforte with its old school 10.5% Dolcetto called 'Dosset.' Yet, that wine informs Ferdinando Principiano's style for Barolo and all his other wines: elegant natural wines with a watermark of traditional Barolo terroir. Ferdinando began his conversion to natural winemaking in 2003, and nowadays his vineyards teem with wild flowers in Spring. A wild and thick leaf canopy provides shade to the grape clusters; early-picking tightens the acidity, and lowers the alcohol. Whole-clusters are trammelled by foot, and fermented without sulphur to give an ease and suppleness to the fruit. Here's finally a traditional Barolista, taking on climate change, being thoughtful instead of dogmatic about making natural yet princely Dolcetto and Barolo (and a few other native Piemonte varieties) – to drink – instead of taste.
Winery:
The cellar is in Monforte zone of Barolo. Monforte is also a an old-world charming small town you should visit; it is much different than the shaking and moving of La Morra. A total of 21 hectares of vineyards are located in Monforte and Serralunga, with a smattering in Alta Langa. The far southeast part of Barolo is an area off the beaten path (for Barolo at least). Instead of dusty vine row after vine row, there are woods and birds between the vineyards, and Ferdinando has created what looks like an extra-large Koi pond for migratory birds. Walk the vineyards for an ad hoc botanical tour of fruit trees that Ferdinando has planted over the year. The smell of grapes amid apples, pears, apricots, peaches, cherries, persimmons, almonds, figs, prunes, and apple and pear quince hint at the complex biodiversity here. On one of my recent visits, a vineyard worker was taking a break in the shade, and plucked a plum to eat. All of which reminds me: Nebbiolo isn't only tar and roses (though I love that rock band as much as you), it is about cool fruits, plums from the icebox, come to mind, and so does unapologetic deliciousness.