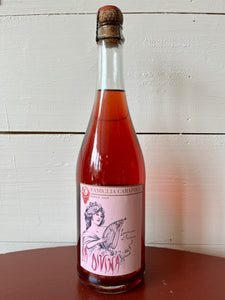 Grower: Famiglia Carafoli
Region: Emilia-Romagna, Italy
Grape Varieties: Lambrusco di Sorbara, Lambrusco Salamino
Viticulture: Organic, Biodynamic
Category: Sparkling, Pet-Nat, Red
Size: 750 ml bottle
Cantina Fratelli Carafoli was founded in Ravarino, a small village in Modena by Mauro Carafoli in 1919. Kilometers away from the town of Sorbara, Carafoli has excelled in the production of Lambrusco di Sorbara and Lambrusco di Modena.
Cantina Carafoli is thriving under the third generation with advancements in technology, methods and viticulture. Carafoli elevating the quality of their wines with the purchase of 20 hectares in Sorbara in 1965. These 20 ha are in a thin strip of land between the Secchia and Panaro rivers. There the soil is relatively rich in nutrients for vineyard soils but the soils are loose and permeable, providing excellent drainage.