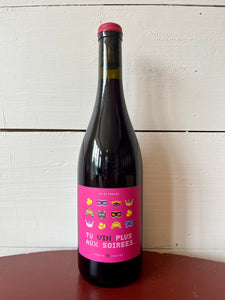 Grower: Fabien Jouves
Region: Cahors, France
Grape Varieties: Malbec, Cabernet Franc
Viticulture: Biodynamic
Category: Red 
Size: 750ml
Fabien Jouves is a fifth generation winemaker located in the southwest of France in the village of Trepoux-Rassiel, about 15 minutes away from the town of Cahors on a high hill. In 2006, he took over his family's 44 acre estate and converted it to organic and biodynamic farming. In this region, Malbec (Côt) is the king of grapes and Jouves aims to reveal many different expressions of Malbec when he selects his parcels.
The entire vinification process occurs naturally, without any additives. The wines are then aged until maturity in concrete tanks, barrels or large wooden vats (foudres), depending on the wine's personality
This VDF has prominent red and blue fruit flavors, a velvety round texture, and an earthy nose. The wine is lush and inviting—it sparks joy and is the perfect choice for, well, a soirée!