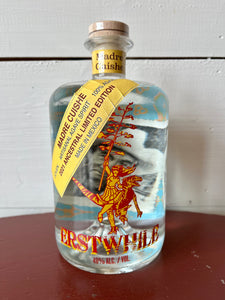 Grower: Erstwhile
Region: Oaxaca, Mexico
Materials: Agave
Viticulture: Organic
Category: Spirit, Mezcal
Size: 750 ml bottle
Erstwhile is a boutique importer of mezcal and agave spirits based in Brooklyn, New York.  Erstwhile's mission: advocate for small, independent, family-owned producers who lack representation outside their local communities in Mexico; and bring their extraordinary agave spirits to mezcal enthusiasts like ourselves in international markets for the first time.  "We seek out small producers who are interested in exporting out of Mexico, but do not have the means to do so on their own.  We believe in empowering producers to own as much of their export process as possible, be it using their own bottling facility or hiring their own workers."
"Meet the master distillers who craft Erstwhile's award-winning Espadín, named a Top 100 Spirits of 2019 by Wine Enthusiast and BEST IN CLASS gold medal winner in the agave spirits category at Craft Spirits Berlin Awards 2023 – Europe's largest competition dedicated to handcrafted spirits.
Meet Silverio García Luis and Epifania Gómez Mejía, the third generation of mezcal producers in the García family from Rancho Blanco Güilá, Oaxaca.
Fans of Erstwhile Espadín Mezcal, we are so excited for you to try the Madrecuishe and Tepeztate, two limited releases that rescue a García family tradition that had been forgotten for over forty years.  Silverio and Epifania made these two batches exclusively for Erstwhile's 2021 Ancestral Limited Edition lineup.
Epifania did not grow up in a mezcal family, but learned the ropes and became a master distiller in her own right.  In 2020, the Mezcal Regulatory Council in Mexico (Consejo Regulador del Mezcal) honored and spotlighted Epifania as a Woman in Mezcal.  Click here to read the English version (on pages 14-15) and here for the Spanish version of the Mezcal Regulatory Council's homage to Epifania as a Woman in Mezcal.  Léelo en español aquí.
The legacy and craft of artisanal mezcal production have deep roots in te García family. Silverio and Epifania learned the craft from Silverio's father, renowned master mezcalero Lorenzo Antonio García (or Don Lencho, as his family likes to call him).
In February 2016, The Mezcal Regulatory Council (CRM) in Mexico recognized Don Lencho as a Cultural Treasure of Mezcal, a remarkable and rare honor reserved for the few master mezcaleros who are known for excellent mezcal and have preserved the virtuosity of artisanal mezcal production for at least 60 years."