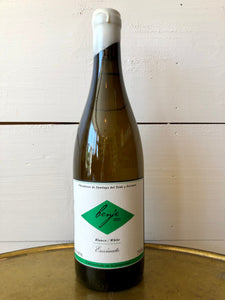 Grower: Envinate
Region: Canary Islands, Spain
Grape Varieties: Listan Blanca
Viticulture: Sustainable
Category: White
Size: 750ml
Envínate (translates as "wine yourself") is the brainchild of 4 friends, winemakers Roberto Santana, Alfonso Torrente, Laura Ramos, and José Martínez.  This gang of 4 formed back in 2005 while studying enology at the University of Miguel Hernandez in Alicante. Upon graduation, they formed a winemaking consultancy, which evolved into Envínate, a project that focuses on exploring distinctive parcels mainly in the Atlantic-inflected regions of Ribeira Sacra and the Canary Islands. Their collective aim is to make profoundly pure and authentic wines that express the terruño of each parcel in a clear and concise manner. To this end, no chemicals are used in any of the Envínate vineyards, all parcels are picked by hand, the grapes are foot-trodden, and the wines are fermented exclusively with wild yeasts, with a varying proportion of whole grape clusters included. For aging, the wines are raised in old barrels and concrete, and sulfur is only added at bottling, if needed. The results are some of the most exciting and honest wines being produced in Spain today.
From several parcels of 70 – 1 1 0 -year -old vines at 900 - 1200m elevation farmed by Envínate and 15 local families. Viticulture here is highly traditional: vines grow untrained, the soils is worked by hand, and no chemicals are used.
The grapes are harvested by hand, destemmed and rested on their skins for 12 -24 hours. The grapes were then pressed and fermented with native yeasts and without temperature controls by parcel in concrete vessels. After fermentation, the wine rested on its lees in a mix of used French oak vessels (30%) and two concrete tanks (70%). One of the concrete tanks developed a veil of flor (~30% of the wine aged under flor), and all of the wine underwent spontaneous malolactic fermentation. Bottled without fining, filtering and with only a tiny addition of sulfur.