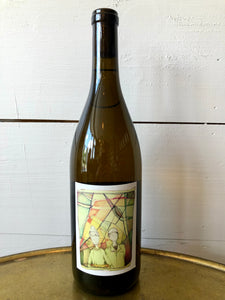 Grower: Ellsworth Wines
Region: Sierra Foothills, CA, USA
Grape Varieties: Chardonnay, Sauvignon Blanc
Viticulture: Organic
Category: White
Size: 750ml
We are Bryn and Jeffrey of Ellsworth Wines. Both from DC suburbs in Maryland, we moved to California to pursue passions of wine and farming. We live in Penn Valley California, where our 1.5 acres home vineyard and winery is located. We have been very fortunate to be in Nevada county, with plenty of opportunities to farm vineyards of various sizes, varieties, and terroirs, by creating relationships with land-owners exchanging our labor for the fruit. Ellsworth Wines is our shared vision of participating in the vineyard ecosystem, doing our part to not only grow great grapes and make yummy wine, but also respecting the earth and vines, while promoting biodiversity and soil health. Our vines are located in the northern most part of Gold Country in the Sierra Foothills, at elevations of around 1500ft. We have a dry, hot growing season, our no-till and dry-farming approach allows the clay soils to retain rainwater for the vines to access all year. Our goal in every vineyard is to leave it better than we found it, which requires rehabilitation and thoughtful farming. We do not use fertilizers, herbicides, or pesticides, synthetic or organic, in our vineyards.