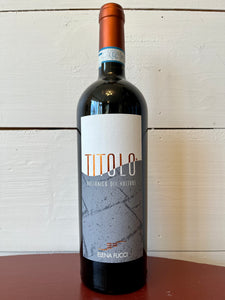 Producer: Elena Fucci
Region: Aglianico del Vulture, Basilicata, Italy
Grape Varieties: Aglianico
Viticulture: Organic 
Category: Red
Size: 750ml
One vineyard. One grape variety. Elena Fucci's wines are the definition of specialization. On her family's property at the foot of the extinct volcano, Mount Vulture, she grows only Aglianico, seeking to draw out the most defining facets of the variety and microclimate.

The Fucci family's house sits in the middle of their vineyards, so Elena grew up literally surrounded by them. Purchased by her grandfather in the 1960s, these six hectares contain the oldest vines on Mount Vulture—some more than 70 years-old—seated at the highest part of the vineyard in Contrada Solagna del Titolo. The majestic volcano rises just a few hundred meters away, and ancient lava flows paint the vineyards with dark, mineral-rich soils.
Malolactic fermentation takes place within 100% new French oak barriques and matured for 12 months. The wine is aged in the bottle for an additional 6 months before being released to the market.
"Once an unexpected sensation, Elena Fucci's Titolo Aglianico has become a point of reference, as the 2019 vintage only further confirms. The notes of tar and roses notes that have lent this grape its nickname are immediately apparent on the nose, underpinned with dark berries and brambles. A wine that manages to feel both lithe and substantial and that could take another decade of age in stride. Danielle Callegari" - Wine Enthusiast