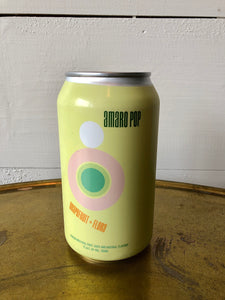 Grower: Eda Rhyne Distillery
Region: Asheville, North Carolina, USA
Category: Ready-to-Drink Cocktail
Size: 355ml
The first release of Eda Rhyne's canned and carbonated ready-to-drink cocktail project, Amaro Pop! Grapefruit + Flora is a shockingly refreshing and dangerously quaffable spritz. A perfect marriage of Eda Rhyne's own Amaro Flora, fresh grapefruit purée, and club soda, this RTD is lightly sweetened with a touch of honey from a local apiary located just up the road from the distillery. By lengthening and carbonating the Amaro Flora, its botanicals are drawn out and on full display with plenty of floral elderflower, spicy cinnamon, and tart berry notes perfectly complementing the fresh, vibrant grapefruit. Non-chill filtered; 7% ABV.