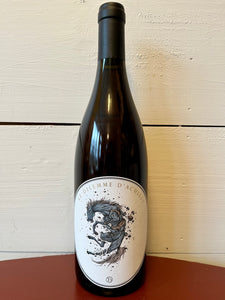 Producer: Les Deplaudes de Tartaras
Region: Patrimonio, Corsica
Grape Varieties: Nielluccio
Viticulture: Organic & Biodynamic
Category: Red
Size: 750ml
Thomas Santamaria is the 6th generation to take over the estate, which, over the years, has acquired 30 hectares of vines across the Oletta, Olmeta-di-Tuda, and St.-Florent communes on the island of Corsica planted in schist and limestone soils. Much like their neighbors at Clos Marfisi, previous generations had farmed in the traditional ways, and never gave into outside pressure in regards to using herbicides and pesticides, which unfortunately became common in the 1970s. Thomas has begun to take that a step further. He maintains strict organic farming principles, and is looking at biodynamic treatments as well as following the lunar cycle for all vineyard work. 

Vinifications are just as traditional, with native yeast fermentations in stainless steel. All wines are unfined and unfiltered with a small addition of sulfur at bottling. Thomas makes two different tiers of cuvées. The first is called Tranoi which are bottled as Vin de France and are pure, unadulterated, distinctly Mediterranean wines. The second are his Patrimonio AOC wines, which are among some of the best on the island.
La Dilemme d'Achille- 100% Nielluciu.  More like a light red, with maceration for only one day before pressing, Thomas says this was inspired by L'Anglore.  There is a story behind this cuvée—a dilemma, if you will.  Thomas is a reader and is obsessed with this story from the Iliad.  Achilles says that faced with the choice of having a long uneventful life full of meaning and small things vs. a life filled with glory on the battlefield and an early death, he wish he could have chosen the less glamorous life.  What Thomas gleans from this is a question more appropriate for a 32-year-old winemaker: is it possible to have both personal and professional satisfaction?  What does it mean to "make it?"  The dilemma speaks too to the choice to live on the island, to embrace a slower pace of life.