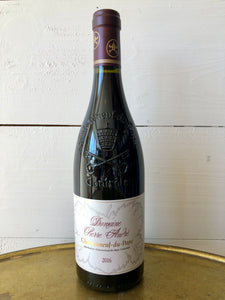 Grower: Domaine Pierre Andre
Region: Southern Rhone, France
Grape Varieties: Granache, Syrah, Mourvedre, Cinsault, Counoise, Picpoul, Muscardin
Viticulture: Organic, Biodynamic
Category: Red
Size: 750ml
Domaine Pierre André was founded as an independent producer in 1957 when the late Pierre André assumed the responsibility for the family business in 1957, but the domaine did not bottle commercially until 1978. Pierre's daughter, Jacqueline, took on a larger role in 1984 and she runs the winery today joined by her son, Vincent. Jacqueline André is now the fifth generation winemaker in a family that has been growing for sixth generations in Courthézon, a small commune between Orange and Avignon. Today the family estate encompasses 18 hectares of herbicide-free vineyards with 16 of those hectares classified as Châteauneuf-du-Pape. Because of the family's unflagging stewardship of the land from the start, the estate swiftly became the first organically certified Châteauneuf in 1980 and gained biodynamic certification in 1992.
The low-yielding vines themselves are mostly Grenache with small amounts other Châteauneuf varieties. The vines average 75 years old, but some parcels have vines over 140 years old. These parcels are in the northeast zone of the AOC, situated among the lieu-dits of Les Gardioles, Les Bédines, L'Etang, Les Saumades, Chapouin, Pignan, Guigasse and the Rayas. To an outsider the parcels seem to be a patchwork of classic soils with quartz-rich pebbles in one part, prominent galets in another, and various base soils throughout including components of clay, sand and limestone. However, Jacqueline assembles the parcel's respective wines to produce two exceptional cuvées: a Châteauneuf-du-Pape rouge and a Châteauneuf-du-Pape blanc.
In the cellar, the red wines are fermented whole bunch in cement tanks with vatting from three to four weeks followed by a combination of cement or large oak barrel aging over 18 to 20 months. The Châteauneuf rouge is bottled unfined and unfiltered. The whites ferment in cement, age there for 8 months, and are bottled unfiltered after a pass of bentonite fining. The diverse pieces of these wines are blended to highlight the elegance and balance that such a diverse estate enjoys from vintage to vintage, and without compromise.