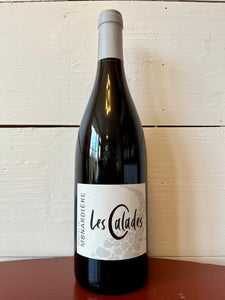 Producer: Domaine La Monardière
Region: Southern Rhône Valley, France
Varietals: Grenache, Cinsault, Counoise
Viticulture: Organic
Category: Red Wine
Size: 750ml bottle
Declassified Vacqueyras
Of the 175 wine growers in Vacqueyras; only 45 are bottling their own wines and selling direct from the domaine, with the rest selling to the co-op or to one of the three négociants in town. The Vache family of Domaine la Monardière falls amongst the growers. The Vache family bought their domaine in 1987 from the Monarde family, and immediately got to work revitalizing the vineyards, building a new winemaking facility. They began by selling the wines from the domaine's door. The Vaches also harvest all of their vineyards by hand, which is not a requirement of AOC Vacqueyras, nor is it a common practice. They have been working organically in the vineyards since 2000, but only began the certification process in 2007, and have now been certified since 2010. 
Since they practice organic viticulture, it only follows that they should vinify with as little intervention in the cellar as possible, to produce authentic wines that are true to their origin. After harvest, the grapes are sorted and mostly destemmed, and then put into cement vats; the indigenous yeasts found on the grapes start the fermentation naturally. They pump-over the wine daily for a gentle extraction. The Syrah and some of the Grenache vats are punched down manually, and maceration takes place for two to three weeks. The wines are then aged in vats or used barrels throughout the winter and then bottled without fining or filtration and a low amout of sulfur. The Monardiere wines offer an incredibly pure expression of Vacqueyras. 
Winemaker, Damien Vache, really appreciates a lighter bodied style of wine from the Rhône and with the recent hot vintages, this is becoming more and more difficult to achieve. As he replaces old vines that are no longer producing fruit, he is planting more Counoise, Cinsault, and Carignan, grapes that are all naturally lower in alcohol. Now, the challenge is that to be classified as Vacqueyras, the blend must be 90% Grenache, Syrah, Mourvèdre. The "Calades" is classifed as a Côtes du Rhône, although all of the fruit is planted in Vacqueyras. The blend is Cinsault, Counoise, Grenache and it's made in cement tanks without any sulfur during vinification or aging, only a small amount at bottling.