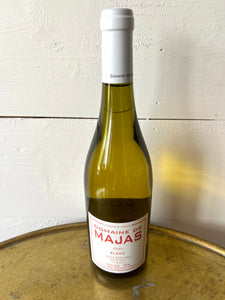 Grower: Domaine de Majas
Region: Cotes Catalanes, France
Grape Varieties: Macabeo, Rolle, Carignan Blanc. 
Viticulture: Organic
Category: White
Size: 750ml bottle

Alain Carrère founded Domaine de Majas with his wife Agnès in 1992. Today, the estate represents 30 hectares, all in the commune of Caudiès-de-Fenouillèdes. The vineyards principally consist of Carignan grown on terroirs of schist, volcanic stone and mountainous limestone. Merlot, Cabernet Sauvignon, Cabernet Franc, Grenache, Syrah, Chenanson, Macabeu, Rolle and Chardonnay are also planted.
Alain spent years selling to large French supermarkets and realized the unsustainable relationship ultimately resulted in him losing money given his dependency on them. He decided to shift his approach and to begin creating wines as he thought would best reflect his estate, and so he reached out to a young, (back then) fairly unknown grower that he had seen made waves by practicing organic viticulture, Tom Lubbe. After tasting the wines, Tom told Alain he would start helping them rebuild the estate from the ground up. The two agreed on a partnership, and with Tom's guidance, they immediately started converting all 30 hectares to organic viticulture, as well as eliminating all commercial yeasts, additives and excessive sulfur in the cellar.