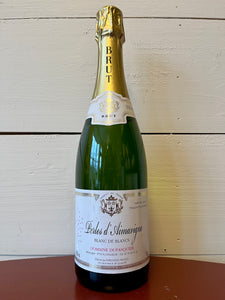 Producer: Domaine Dupasquier
Region: Savoie, France
Grape Varieties: Jacquère & Chardonnay
Viticulture: Low Intervention
Category: Sparkling, White
Size: 750ml
David Dupasquier is a fifth generation winemaker at this ultra-traditional domaine.  He and his sister Veronique run the domaine, but their Father Noel is still very much involved in the vineyards and in the cellar.

The Dupasquier vineyards are located in a southwestern lobe of the Savoie, close to the Rhône Valley.  One drives through a large mountain called "Le Dent du Chat" to arrive at the domaine, and the terroir seems almost instantly to become more Rhône-ish on the western side of this tunnel. The town is called Aimavigne, and its most prestigious vineyard is the incredibly steep "Marestel" Cru (pronounced "mah-reh-tehl" no "s"). The vines benefit from steep, sun-drenched slopes, primarily limestone soil, and the cooling effects of Lake Bourget.  David works these vineyards with a tractor and by hand – the Marestel vines entirely by hand, as a good percentage of the best sites are too steep to work with a tractor.  Plowing is done once per year for every other row and David believes that the biodiversity this leaves in the vineyard is critical for the quality of wines.  Harvest is by hand and clusters are hand selected.
A gorgeous sparkling wine, made largely of jacquère and chardonnay, with a little altesse as well. It's bone-dry and lacy-fine, with lightly creamy flavors. The brother-sister team of David and Véronique Dupasquier is the fifth generation of the family to oversee this domaine, which also makes terrific still wines. Fortuitously, as Wink Lorch points out in her excellent book "Wines of the French Alps," Aimavigne, the town where the estate is based, means "love the vine."