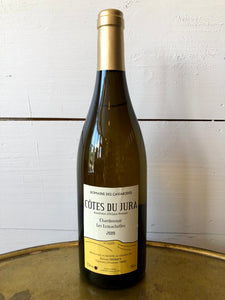 Grower:Domaine des Cavarodes
Region: Arbois, Jura, France
Grape Varieties: Chardonnay
Viticulture: Organic
Category: White
Size: 750ml
Etienne Thiebaud, as well known for his shyness as for his beautiful wines, began his domaine in 2007 after working for several years with Pascal and Evelyne Clairet of Domaine de la Tournelle.  He settled just north of Arbois in Cramans, by the Loue river, which marks the boundary between the Jura and the Doubs départments.  Still in his 20s, he's a bright young star in the Jura firmament, and has become a bit of a sensation on the natural wine scene, in part because his wines show incredible purity and terroir expression, and in part because they've been virtually impossible to acquire.
When Etienne began Domaine des Cavarodes in 2007, he was fortunate to acquire a few very old parcels of vines between 60 and 120 years of age.  These vines are just on the north side of the Loue, and therefore just outside the appellation of Arbois.  The parcels are planted to several extremely old and rare Jura varieties that are great curiosities to nurseries in the Jura and beyond.  Etienne's vineyard work has been organic since the beginning, including his plots within the Arbois appellation in Les Messagelins, which he converted to organic farming upon arrival.

Etienne is very much a natural winemaker.  His red wines are semi-carbonic, and are made without any added SO2.  They are hand de-stemmed, and mature in neutral barrels and foudres of various sizes and ages.  Etienne's whites see a small addition of sulfur before fermentation. 

For such a small Domaine, Etienne makes a wide range of wines, some named for soil types or fossils and others for the vineyards that produce them.  Of particular note is his red field blend, which features a total of 12 varieties (akin to J'En Veux from Ganevat).  His white wines, including a blended cuvee of Savagnin, Savagnin Rose, and Sauvignonasse are for the most part made ouillé and show great purity, finesse, and detail.  They sometimes contain a bit of residual CO2 and can benefit from a carafe.

These wines show Etienne's firm roots in the natural wine community, the reds marked by the juicy tang of carbonic maceration, and the whites lightly oxidative.  The wines show far more than just Etienne's natural wine roots, however, and are beautiful expressions of the limestone, clay, and marl of the northern Jura.